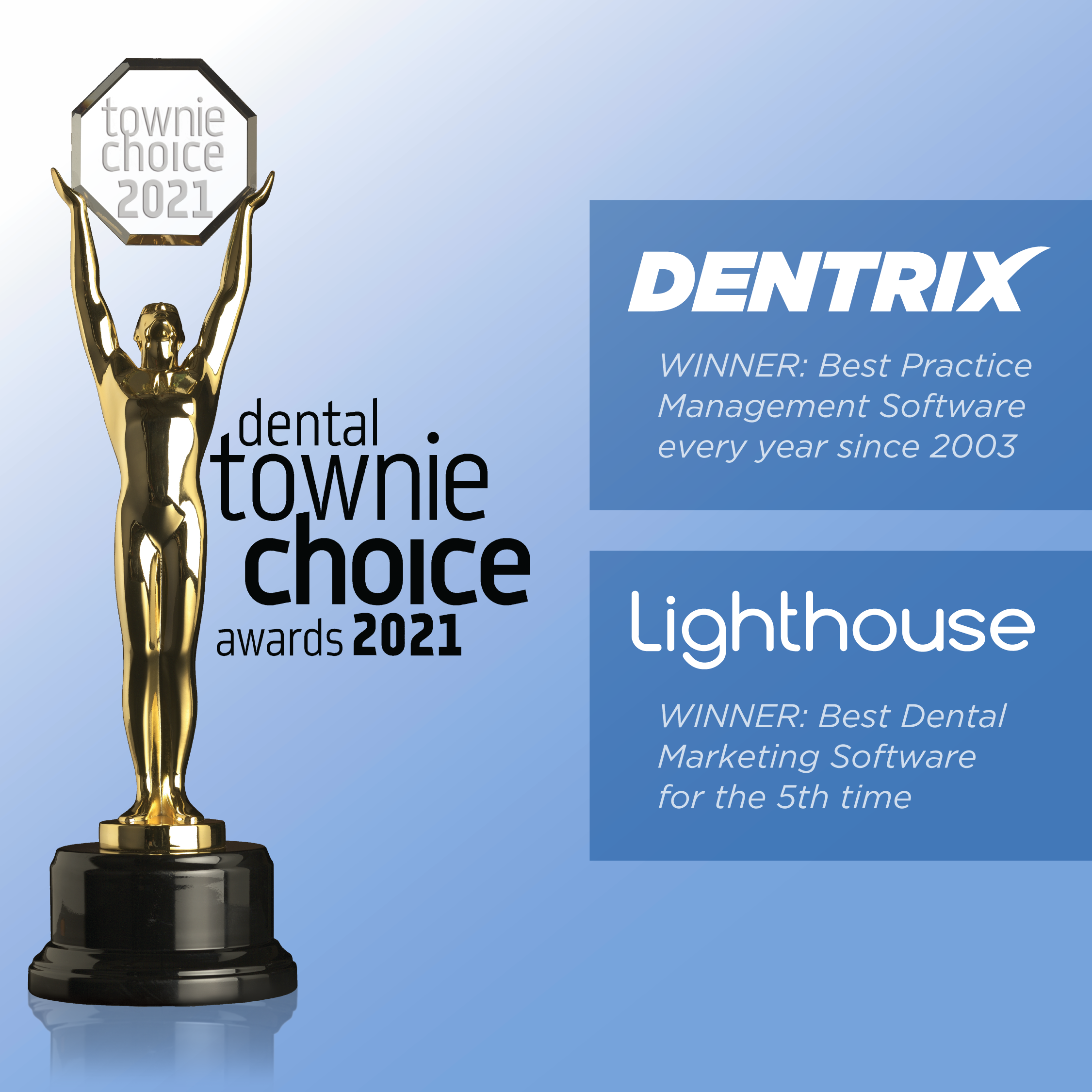 Dentrix and Lighthouse 360 Receive Townie Choice Awards Again
Dentrix wins best practice management software for the 19th consecutive year; Lighthouse 360 wins best dental marketing software for the 5th time
PRESS RELEASE
American Fork, Utah, April 15, 2022 – Henry Schein One, a joint venture of Henry Schein Inc. and Internet Brands, is pleased to announce that Dentrix has once again been awarded the 2021 Townie Choice Award for Practice Management — winning the category every year since the inception of the Townie Choice Awards in 2003. Another Henry Schein One solution, Lighthouse 360, has been awarded the 2021 Townie Choice Award for Dental Marketing for the fifth time since 2016.
Dentrix, the world's leading dental practice management software provider, has received more votes than any other practice management software every year since the Townie Choice Awards were founded in 2003. This 2021 Townie Choice Award — the 19th consecutive given to Dentrix — is a testament to the Dentrix mission to create software that empowers dental offices to do more, accomplish more and earn more.
Lighthouse 360 earned its 2021 win in the Dental Marketing category for being an easy-to-use patient communication system that helps dental practices grow and succeed. Lighthouse 360 has won eight Townie Choice Awards in the last five years, winning in categories like Patient Communication Systems and Dental Marketing.
The Townie Choice Awards are sponsored by Dentaltown Magazine. "Townies," or dental professionals who subscribe to the magazine, vote for their favorites in each category, and winners are considered the best in their category for how they make Townies' "lives easier, their practices more productive, and their staff and patients happier."
Henry Schein One is committed to combining award-winning dental practice management, marketing and patient engagement solutions into one connected management system to help dentists improve every aspect of their business.
When their technology works as one, a dental team can work smarter and faster while improving each step of the patient experience. That is why Henry Schein One continually strives to innovate and provide the best tools and solutions for professionals across the dental industry. To learn more about Dentrix and Lighthouse 360 and why they're the world's leaders in practice management and dental marketing software, visit www.Dentrix.com/TCA.